Girton Allotment Society and Girton Garden Society
Feast Week Village Fete 2019– The Mini Show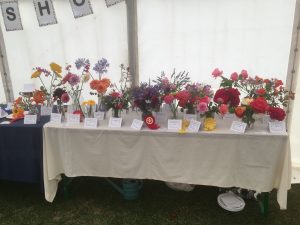 What would the weather bring this year? I ask this question every year as there no longer seem to be any certainties. We had a very warm period in February then a late frost, very sporadic rainfall and finally potato blight on the allotments. However this didn't seem to deter hardy gardeners and we ended up with a magnificent display in almost all categories. I think only beans of a decent length were in short supply and by 10am a steady stream of people were arriving with their entries for the show and extra produce for the stall. In the end we needed an extra table so 'well done' everyone!
In the flower categories there were 8-10 entries in each category with a huge variety in the 3 single blooms group, from agapanthus, achillea and dahlias to hostas, lilies and penstemmon. The roses were glorious and the mixed bouquets were beautifully done. All entries would have been worthy winners.
The children's entries included a wonderful vegetable monster by Wendy Booth, some competitive beans and funny carrots.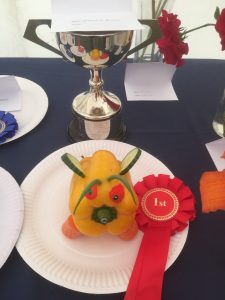 By 11.45am the tables were full and Malcolm Frew arrived to judge the entries and award the rosettes. Starting with the vegetables he examined the entries and awarded the prizes. Stand out entries were the wonderful onions of John Gibson, Wendy Ripley and Ian Jones, rhubarb from Louisa Cook, John Gibson and Judy Clare, Kay Green, John Gibson and Andrew Field's 3 different vegetables, and potatoes entered by Graham Jones, Kay Green and Catherine Fullah. Judy Clare, Robin Bradford, Wendy Ripley and Ian Jones were commended in the bean class. In the children's categories Ellie McIntosh won with her carrot with Delilah and Josephine Whittle in second place.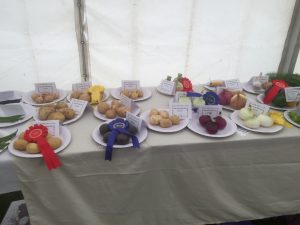 3 different coloured vegetables was won by Wendy Booth with Ellie McIntosh in second place. Rafi Leach-Cook grew the longest bean with Wendy Booth in second. There was only one entry for 'An animal modelled from vegetables, fruit and/or flowers' but what an entry from Wendy Booth. It was imaginative, cleverly constructed and fully deserved to win the 'Best in Show' cup which was awarded to Wendy by Malcolm Frew.
On to the fruit, john Gibson, Beatrice Moring and Kay Green, shared the prizes for a small plate of fruit.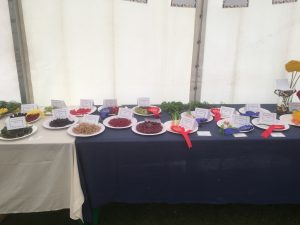 The flowers were more plentiful than last year due to the weather and were much harder to judge as they were all really good. Uniformity of size and stage of development is important for the 3 stems category and symmetry of composition in the mixed bunch category. The 3 stems category was won by Judy Clare for her dahlias and Rod Mathie and Ann Jeram came 2nd and 3rd with agapanthus and penstemmons. The bunch of garden flowers category was won by Rod Mathie with Kay and Judy close behind. In the rose category the winner was Corinna Tabor with Beatrice Moring in second place and Judith Addison third..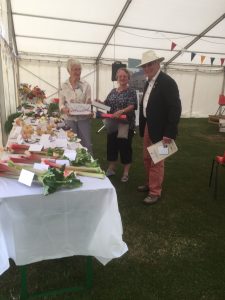 On behalf of the Girton Garden Society and Girton Allotment Society I would like to say a big "thank you" to all the members who took the time to help organise the show on the day and who donated their vegetables, fruit, jam, chutney, plants and tubs to be sold on our combined stall. Also many thanks to everyone who helped on the stall it really looked lovely and demonstrated very clearly that growing your own fruit, flowers and vegetables is rewarding, satisfying and clearly helps foster community spirit! Finally I would like to thank Malcolm Frew for doing the judging for us in such a careful and completely unbiased manner. Not an easy task but carried out with ease and professionalism.
I look forward to next year with even more entries ( and tables) as people are inspired by what they have seen and realise that adverse weather conditions just make people more determined.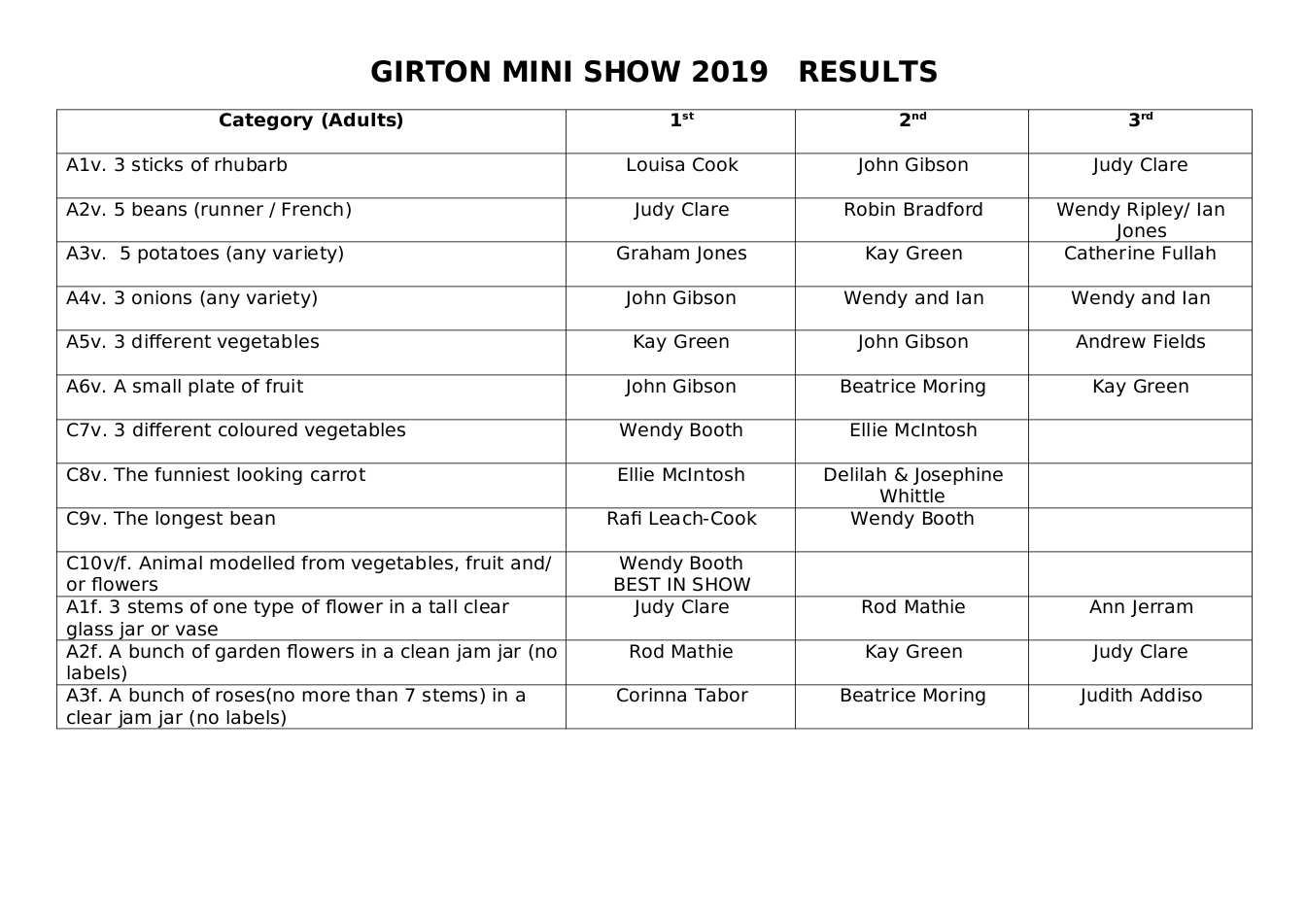 Kay Green GGS